Traveling with a Hedgehog
When you're planning to go on vacation it can be very difficult to find someone to take care of your pets while you're gone and some of you might not want to leave them with someone else. This is especially a problem with hedgehogs, because they're very sensitive and naturally shy, little animals. What's special about them is that they get very used to their owner and remain super shy towards everyone else. Many you know this, which is why I've been getting a lot of requests to write a blog post on this topic and to explain how I travel with my hedgehog. Traveling with Pokee started when I decided to go abroad for a semester. At that point Pokee was already super tame and used to me but generally shy towards others. Leaving him with my family or a friend for 5 months was never an option for me. Which is why I needed to take him with me, yet I had to figure out a way to provide similar housing without having to bring all his heavy equipment.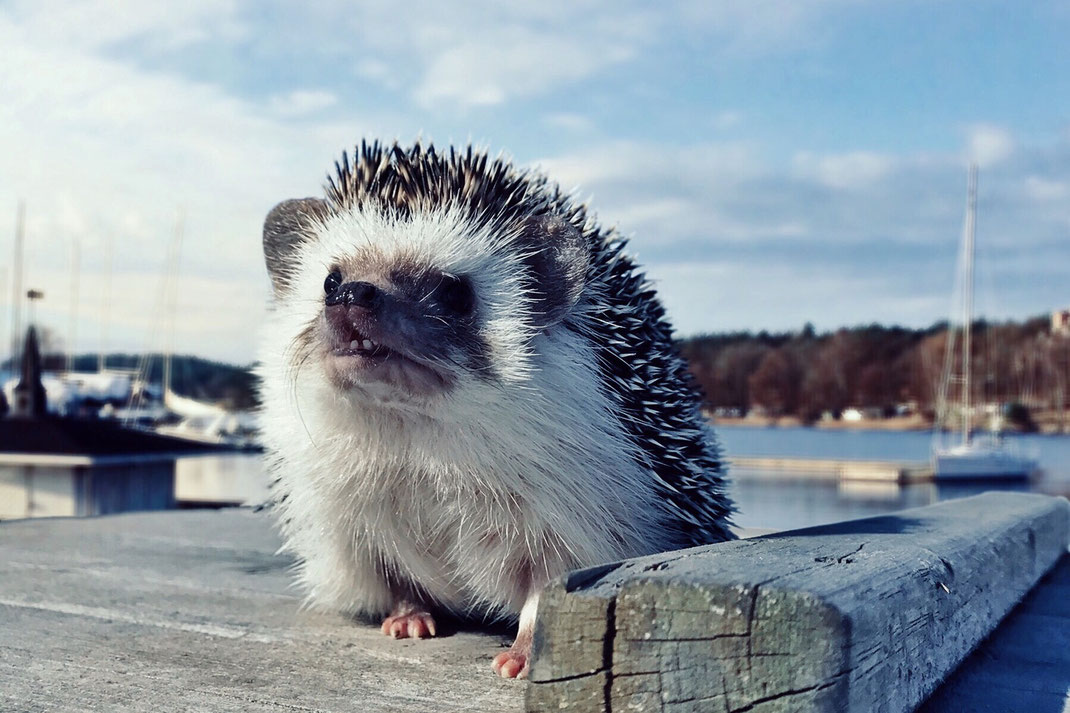 TRAVEL EQUIPMENT
Normally, Pokee stays in a wooden cage (terrarium) that we built for him a while ago. Since wood is extremely heavy though, I knew  I wasn't going to be able to bring his regular cage with me. I started searching for alternative options that were similar in size to his cage and finally found this:
It's actually called a 'puppy stall' and basically functions like a tent. You can fold it together in a few seconds, it's super easy to transport and small when folded together. When you set it up though, it's large enough to keep a hedgehog in it (100 x 100cm). Whether you want to take your hedgehog with you or leave it with your family or a friend while you travel, this might be a nice option for you, because you can easily bring it with you wherever you go and you don't need to worry about the transportation of a heavy cage. So when I travel with Pokee this is one of the essentials I bring along. 
Inside the travel cage I use fleece blankets as bedding. I usually bring along two of them, so I can use one when the other one is in the laundry. Although it's already quite dark inside the travel cage, I usually place either another blanket or a towel on top of it, so it's very dark and Pokee doesn't feel observed and uncomfortable. Additionally, I bring along the following things:
HIDEOUTS
Hedgehogs love hideouts, I usually bring 1-2 of them.
FOOD & DRINK
There should be two seperate bowls, one for water and the other for dry cat food. Read more about food here.
SAND BATH 
Hedgehogs naturally clean themselves with sand, so in Germany it's typical to have a sand bath. I also bring it when I travel with Pokee and fill it with chinchilla sand. He also uses it as a toilet. Read more about bathing here.
RUNNER 
Pokee uses a running plate, some might use a running wheel - which ever option you decide for - bring it with you.
HEATING MAT
To ensure the minimum temperature is given at all times you can either use a heating mat or lamp.  When traveling I think it's smart to use a heating mat, since it can be placed underneath the travel cage. Therefore, you need to build up the cage close to a power outlet. This is the one that I use. It's always on, Pokee decides when he needs it and only sometimes sleeps on it. 
THERMOMETER
The temperature is very important. Keep in mind that it can never be cooler than 18 degrees Celsius // 65 degrees Fahrenheit. If the minimum temperature isn't given it is possible that your hedgehog lapses into torpor, even though African pygmy hedgehogs naturally don't hibernate. Therefore, always bring a thermometer and place it inside the cage to make sure it's warm enough.

Depending on what kind of transportation box you use, you can also place this inside the travel cage and use it as a hideout. I currently use a plastic transport box for small animals, but I'm actually looking for a different one, since Pokee doesn't seem to like the plastic. I will keep you updated and let you know as soon as I've found one that works really well. I normally place one of my t-shirts inside the box, so he feels safe and comfy and we're good to go.
HEDGEHOGS ON PLANES
Some of you are wondering if I'm able to travel with Pokee by plane. Sadly, the answer is no, I'm not able to take him on a plane. The airlines that I checked only allow cats and small dogs in the cabin. The problem with hedgehogs, as explained above, is that they're very sensitive when it comes to temperature. I wouldn't leave Pokee in the luggage area for that reason. The argumentation for the restrction in the cabin is very hard to find out. I talked to some people who work for different airlines and they believe it's due to the policies that are just too old and in need of an update. Generally, policies state that no pets at all are allowed in cabins, however airlines make an exception for dogs and cats. They don't allow rodents, because it's possible that during turbulences their transport boxes may pop open and they might bite some cables. However, hedgehogs are neither rodents, nor are they able to break something. Since rodents are not very temperature sensitive it's possible to bring them along in the regular luggage area. I conclude that hedgehogs are currently not able to travel by plane, even though they're small mammals like cats and dogs and most certainly sleep during the whole trip. If this airplane hedgehog travel situation happens to change I will update you immediately!
Therefore, at the moment my only option is to travel by train, bus or by car. Since I have my own car it was possible for me to make a trip through Scandinavia and bring Pokee along. However, when I take him with me I need to make sure to travel during day time, because only then he sleeps through the whole car ride. Once again, I need to check the tempeerature inside the car and need to make sure it's constantly the same, neither too cold not too hot. Other than that I bring along some water and treats for him in case he wakes up and needs something we take a short break! :) 
HOTELS
Bringing hedgehogs to hotels is surprisingly almost never a problem. I mostly don't need to look for special hotels where pets are allowed, since none of the hotels I stayed in so far minded Pokee staying in my room. However, I need to check with them before and explain the hedgehog situation, since so many people are still unfamiliar with pet hedgehogs. It is possible though, that you need to pay an extra fee for pets. We had an amazing experience with FeWo-direkt and stayed at two beautiful apartments in Oslo and Malmö. They have apartments all over the world and it's very easy to communicate with the agencies or landlords through their app. This was a fantastic experience and never an issue to bring Pokee along.
I really hope this information is useful to some of you lovely hedgehog owners out there. I also hope it gives you some ideas about traveling with your hedgehogs or how your family and friends can take care of them while you're on vacation. Since this is such a new topic to many of us, I would love some feedback from you! <3
xx Litha & Pokee